Czech PMI positively surprised in December
4.01.2021
Company: ING Bank N.V., organizační složka
The Czech manufacturing PMI surprised on the upside, increasing from 53.9 points in November to 57 points, the highest print in more than two and a half years. Both production and new orders improved while employment increased solidly
Positive December PMI
December's manufacturing PMI accelerated to 57 points from 53.9 in November, which beat the market estimate of 54.3 points. This is the highest reading since April 2018. The increase was driven by higher production and new orders but also by delays in supply chains related to Covid disruptions, which pushed the headline PMI higher as a result of its methodology. Still, new orders led to the highest growth in employment since mid-2018.
Manufacturing PMIs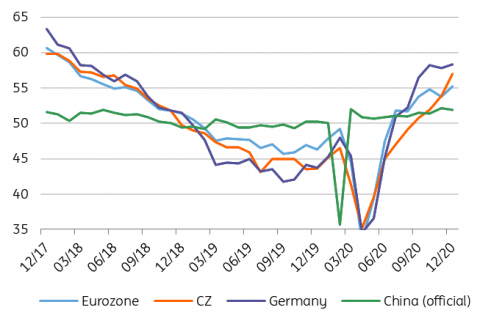 Higher inflationary preassures
Inflation pressures were the highest in the last two years amid raw material shortages and greater demand for input. However, companies managed to pass costs through to clients, leading to the highest growth in output prices since November 2019.
All in all, December's optimistic PMI figure was in line with developments in Germany (58.3) and the eurozone (55.2), and also the relatively solid PMIs in Asia. Though the new Covid wave might lead to some weakening of demand in the months ahead, the 2021 outlook remains positive due to the vaccine, which was also noticeable in the survey among companies.
Author