HP at CES 2021: The Future of PC Innovation is Now
13.01.2021
Company: Hewlett Packard Enterprise s.r.o.
HP unleashes breakthrough PC experiences for creating, collaborating, and connecting wherever you are; Powerful AI advancements, selfie display lighting, and design innovations developed for today's hybrid world
The PC has never been more essential, so this year at CES 2021, HP Inc. is launching computing innovations essential to how and where people experience work and life. HP today unveiled new devices and solutions designed to power hybrid work environments and growing personal creative studios.
With half of the global workforce still working remotely due to the COVID-19 pandemic,5 new use cases for the PC are emerging for both consumers and employees remaining at home. Since COVID, there has been a seven hour increase in time spent on personal PCs.6 In some cases, this has resulted in an increase in everyday creativity – with photography, writing stories or articles, and live streaming being the top three activities among consumers.7 But working and staying at home isn't always simple, with only 30% of people having a space where they can shut the door.8 Yet 72% of knowledge workers want a hybrid remote-office model moving forward9 and 48% of Gen Z are considering an expansion of their freelance business in the future,10 requiring solutions with enhanced collaboration and micro-mobility features.
"While the PC is more essential than ever, what's most important of all is people. Our innovation engine continues to be grounded in deep customer insights that help keep people connected, engaged, and contributing in this new world," said Alex Cho, president, Personal Systems, HP Inc. "We are looking beyond the device people use to what will improve their experience – from software that provides lighting control for video calls, peripherals that enable a more customized experience, to how services can make it easier to monitor and manage devices for a multitude of devices."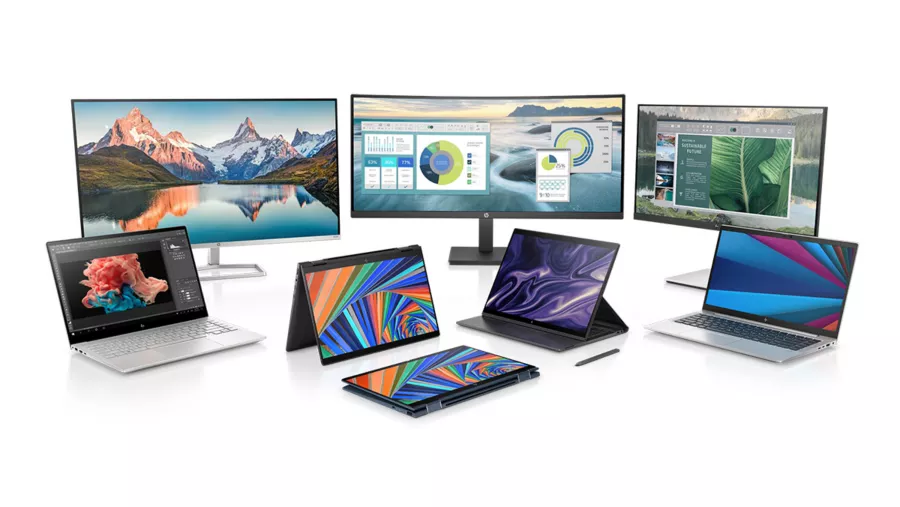 Collaboration Beyond Expectations
The way we work and where it happens has elevated the need for technology that keeps us productive and collaborative. The ability to work together despite being apart has never been more important. HP meets this need with the new HP Dragonfly G2 and HP Dragonfly Max with next-level collaboration.
The HP Elite Dragonfly G2 gives people the freedom to move around the house or the office as the world's lightest compact business convertible11 with a starting weight at less than 1 kg.12 It is also part of the world's most sustainable PC portfolio13 with striking finishes and accents that incorporate recycled materials, including ocean-bound plastics.14 The device offers incredible power through 11th Gen Intel® Core™ processors15 and new Intel® integrated graphics and allows users to stay connected through impressively fast 5G16 or gigabit-class 4G LTE connectivity,17 with Tile™ now built in.18 The striking Dragonfly Blue chassis is a convertible 2-in-1 with an easy-to-clean design. New and improved features include crystal clear sound with Audio by Bang & Olufsen, now AI-enabled to maximize the audio experience for speech, music, and movies. HP's new intrusion detection technology, HP Tamper Lock, locks the PC if it has been physically opened or compromised and notifies the user.19
The HP Elite Dragonfly Max takes the Elite Dragonfly G2 beyond expectations and provides a stunning experience perfectly designed for portability, amped up collaboration, and seamless remote work. Available in Sparkling Black or Dragonfly Blue, the Elite Dragonfly Max offers enhanced collaboration features including: four wide-range microphones with AI-driven audio optimization, a 5 MP + IR camera for high quality video chatting, and an HP Eye Ease display blue light technology with Eyesafe® certification, to work, surf, or chat without burdening eyes.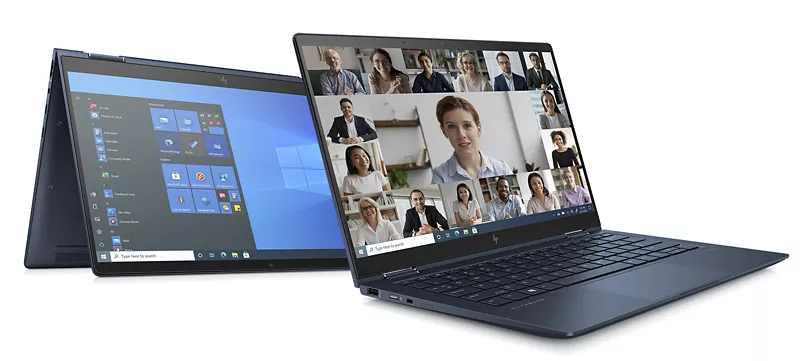 The HP Elite Dragonfly G2 is part of the world's most sustainable PC platform.[20] The HP Elite Dragonfly Max, available in Sparkling Black or Dragonfly Blue, delivers an immersive collaboration experience built to handle heavy conferencing demands.
More information here.