Prague airport's latest staff member? Pepper the robot
29.10.2018
Company: Letiště Praha, a. s.
A new "employee" of Prague's Václav Havel Airport called Pepper is now roaming Terminal 2 and offering both directions and entertainment. He is the result of the airport's ongoing adoption of new technologies through its PRGAirportLab initiative and can be seen as offering a taster of what is yet to come.
Pepper, Prague Airport's new white robot, is 120 cm tall, weighs around 30 kilograms and can do a straight 12-hour shift before he needs an electricity refill. He rolls on wheels but has a humanoid shape, able to move his arms and head. His eyes contain cameras and his feet a set of sensors that enable him to identify where and how far away each customer is.
More importantly perhaps, he is the world's first social humanoid robot able to recognize faces and basic human emotions, at least according to his creator, Japanese conglomerate SoftBank.
The company has sold around 12,000 multifunctional Pepper model robots since introducing him at a conference in 2014. The airport's spokesman, Roman Pacvoň, explained how the robot can be helpful.
He gives directions to the nearest information counter, children's' playing area, or your departure gate. He also has entertainment functions. He dances upon requests and can take a selfie with passengers. Finally, he also provides helpful information about the airport and MasterCard services."
He is still a relatively early form of robot assistant, offering a touchscreen for any passenger to use in case he does not understand them. However, Pepper's introduction into Prague's international airport serves as a taster for the future technological innovations to come, Mr. Pacvoň said.
"The idea is a part of long-term development plans of the airport which are to be implemented in the upcoming years. Within these plans we are also looking at the distant future, which means that all future projects should have the potential to work efficiently even after several decades.
"Now, for example, we are testing electric vehicles, car-sharing systems, technologies improving the check-in process, as well as security."
Passengers flying to countries within the Schengen Area are likely to run into Pepper as he is currently roaming the spaces of Terminal 2 from 7 am to 10 pm every day. The airport is also considering using the robot as a platform through which passengers waiting in queues can purchase a quicker "fast-track" security check.
Pepper is one of many robots being implemented in various industries in the Czech Republic. In September Hospodářské Noviny reported about a farm which is run entirely by artificial intelligence, while the CEO of Czech food delivery service Rohlik.cz was recently quoted by IT business server connect.cz as saying that his company will be using robots for food deliveries from 2019.
Author: Tom McEnchroe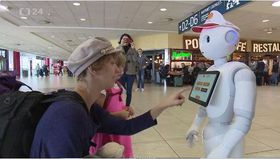 Photo: CT24