T-Mobile in 2017: Number 1 in mobile, much stronger in fixed
28.02.2018
Company: T-Mobile Czech Republic a.s.
New customers on board: 128,000 in mobile, 35,000 in fixed broadband and 25,000 in TV
Revenue growth y/y nearly 2.2%, confirming turnaround from 2016
Investments in technologies and customers reached nearly CZK 4 billion
Highest network quality confirmed by P3 test Best-In-Test award
The year 2017 was a great success for T-Mobile Czech Republic. Not only did the company consolidate its position as the number-one operator in the mobile market, adding 128,000 new customers and increasing its lead over its closest competitor, but it has also successfully transformed itself into a converged company with a stronger position also on the fixed-line market, having signed up 35,0000 fixed broadband customers alone last year. These promising figures underline the carrier's focus and dedication to becoming the first choice in the area of convergent household services.
"It was a busy year for us at T-Mobile Czech Republic and I'm proud that we finished it stronger and in better shape than 12 months ago," says Milan Vašina, Managing Director of T-Mobile Czech Republic and Slovak Telekom. "We are succeeding on both the business and technology sides. Our current and new customers appreciate our great mobile network, which has achieved the best results in respected P3 tests, and our revenues grew again, confirming the turnaround from 2016."
Customers: Strong grow in FIX and TV
Mobile: As at 31 December 2017, T-Mobile's mobile services were being used by nearly 6.2 million customers, of whom more than 3.8 million were contract customers and more than 2.3 million were users of prepaid services. The most popular new tariff plans were the full-flat "Mobil M" and "Mobil S" launched in April 2017, which addressed growing demand for data. Thanks to that average monthly usage per user (contract customers) reached 1 GB by Q3/2017 for the first time.
Fixed broadband: The company launched the fixed internet over-the-air service in early 2017 and it became a real hit. Fixed broadband services including xDSL are currently used by 174,000 customers. Tariff plans were simplified in September, resulting in lower prices for all customers.
TV: T-Mobile's IPTV platform, which is provided via an internet connection from any provider (OTT), has been enhanced with the new technology, which provides better picture quality with less data consumption. The time-shift feature has been extended to 72 hours and is available on all of the platform's more than 180 channels. The service is currently used by 37,000 customers, more than 200% increase compared with Q4/2016.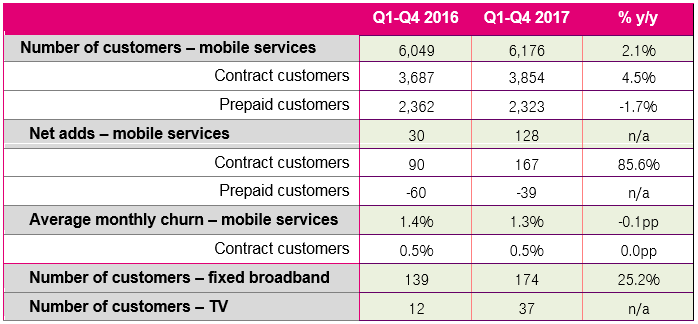 Technology: highest quality and innovations
T-Mobile Czech Republic continues to be a trusted innovator and a driving force for the modern and competitive local economy. According to the latest prestigious network testing conducted by P3 communications GmbH in October 2017, T-Mobile Czech Republic achieved the best results in the overall test. The operator scored the most points and was awarded with Best-in-Test seal. The quality of the operator's network and its capacity, stability and safety are among T-Mobile´s main priorities. In 2017, the operator was the first to introduce fixed-line internet via LTE and launched the first 10Gbps microwave hop in the Czech Republic.
T-Mobile's network with LTE high-speed internet now covers 98.8% (Q4 2017: 95.81%) of the country's population, with improvements focused on speed increases. By the end of the year, T-Mobile had launched pilot operation of the NB-IoT network for the Internet of Things (IoT). For the past two years, the company has been the technology partner and integrator of the SIGFOX IoT network covering the entire Czech Republic.
Investments in technologies, services and customers totalled CZK 3.9 billion in 2017.
Financial indicators: Another year of growth
Total revenues from mobile and fixed-line services including hardware sales reached CZK 27 billion, with revenues from mobile services amounting to nearly CZK 19 billion. Revenue growth y/y nearly 2.2% in 2017, confirming turnaround from 2016. The average monthly revenue from mobile services per user (ARPU) was CZK 256. The growing use of data services is mirrored in the share of non-voice services in ARPU from mobile services, which reached the level of 50%.
As of 31 December 2017, T-Mobile Czech Republic had nearly 3,600 employees. Last year, the company paid CZK 3.8 billion into the Czech Republic's national budget (in the form of VAT, corporate income tax, road tax and real estate tax).